London City Airport eliminates the 100ml liquid restriction.
---
PUBLISHED DATE : 15.03.2023
READ TIME : 2MIN
London City Airport eliminates the 100ml liquid restriction.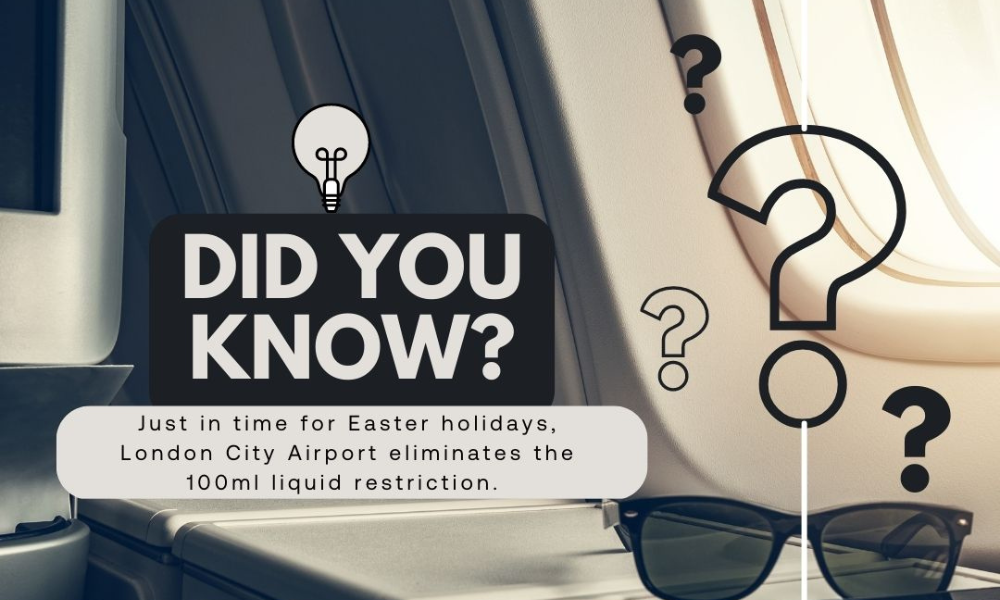 "According to the new regulations travelers will be allowed to bring two-liter bottles of liquids along in their hand luggage."
This is a well-known feeling to frequent travelers. You have taken off your belt, checked your pockets for loose change, and navigated the airport security screening process. So, when all you want to do is try to enjoy your time at the airport, your tiny carry-on suitcase veers into the doomsday lane due to a lost bottle of perfume that you weren't going to use anyhow.
This will soon belong to the past, at least for one of London's airports, along with the tedious process of rummaging through hand luggage as you transfuse your carried liquids into tiny bottles to fit into a small plastic bag.
The 100ml limit on individual liquids will be eliminated at London City Airport, which edged out London Luton and won the title of finest UK airport at the Condé Nast Traveller's 2022 Readers' Choice Awards.
This revolutionary development is due to the installation of two new generation CT security scanning lanes, which can quickly assess any threat posed by liquids. There are currently two cutting-edge scanners at the airport, and two more are expected further to successful trials.
Currently applicable restrictions are expected to be lifted right in time for Easter holidays, when millions of travelers are expected to flee for the break. The third scanning lane will be operational by mid-March 2023, followed by the fourth and final one by the end of March 2023.
The new regulations allow liquids up to two liters to be kept within bags, greatly facilitating the security procedure. Business travelers will also profit from the fact that they will no longer be required to remove laptops from cases.
The noteworthy development is the most recent in a string of triumphs and improvements for this airport, often considered a hub for frantic business travelers.
Notwithstanding three days of considerable fog disruption, 217,000 travelers passed through London City Airport in January 2023 and 225,000 did so in February, representing an increase of 82% above the airport's 2022 records.
The three busiest destinations for this airport are Amsterdam, Edinburgh, and Zurich, with the latter route profiting from increased demand in ski vacations during the pandemic. As Londoners attempt to take advantage of flexible workplace schedules and set out on last-minute European city breaks, the number of travelers having the airport as their start-off point is expected to rise.
Given that over 80% of the flights left on time in 2022, London City Airport had the best on-time performance record among all London airports.