Combining Business and Pleasure in Milan
---
CATEGORY :
Travel News,
Travel Trends
PUBLISHED DATE : 26.06.2023
READ TIME : 2MIN
Combining Business and Pleasure in Milan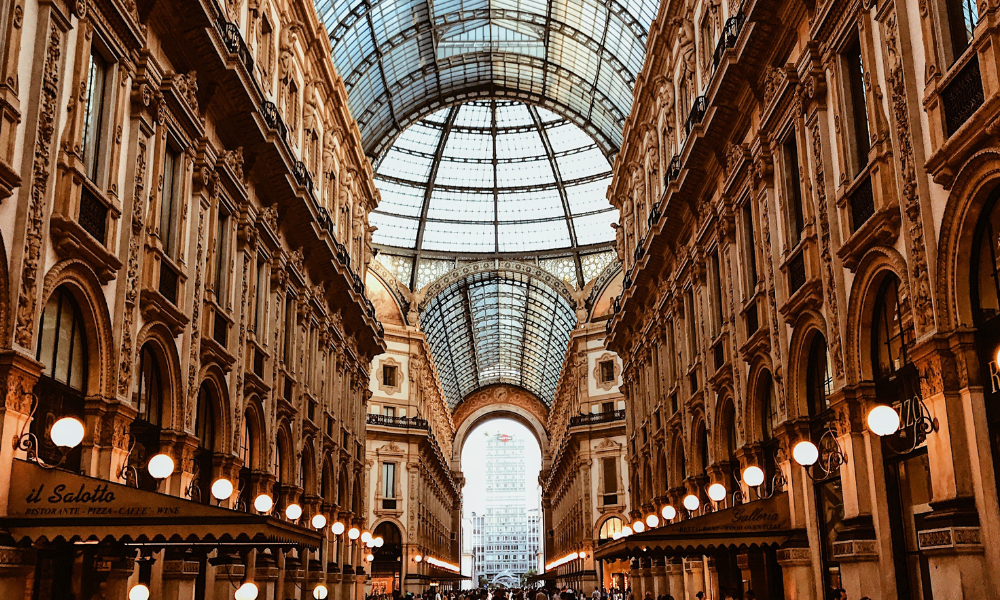 A Perfect Blend: Combining Business and Pleasure in Milan
At Antaeus travel group, we understand that your business trips are not just about work; they are also an opportunity to explore and enjoy the captivating destinations you visit.
Milan, with its cosmopolitan atmosphere and rich cultural heritage, is the perfect city to blend business with pleasure. In this blog post, we want to share our expert tips on how you can make the most of your business trip to Milan, ensuring you have a memorable experience that combines productivity and leisure.
Balancing Work and Exploration:  We recognize the value of your time, so striking a balance between your work commitments and the chance to immerse yourself in Milan's allure is crucial. We can organize your schedule effectively, setting aside dedicated time for meetings, conferences, or presentations. Once your business tasks are in order, seize the opportunity to explore Milan's iconic landmarks, indulge in delectable cuisine, and discover the city's fashionable streets. Milan offers a unique blend of business and leisure that will make your trip truly unforgettable.
Unique Venues for Productive Meetings:  Why settle for ordinary meeting spaces when you can host your business discussions in extraordinary venues? Step away from convention and choose unconventional spaces in Milan. Picture conducting important meetings against the backdrop of historical architecture or modern design masterpieces. These remarkable settings not only add a touch of elegance to your meetings but also inspire creativity and innovation. Let us organize for you every single detail!
Networking Events and Cultural Experiences: Milan is not just a bustling business hub; it is also a city that offers numerous cultural and networking opportunities. We will keep you informed about industry-specific events, conferences, or trade fairs taking place during your visit. Participating in these events allows you to connect with like-minded professionals, exchange ideas, and expand your network. Additionally, immerse yourself in Milan's vibrant cultural scene by visiting art galleries, attending fashion shows, or experiencing the renowned La Scala Opera House. These cultural experiences will enrich your trip and create lasting memories. Λet us know which one you prefer, all you have to do is enjoy your visit!
Relaxation and Recreation:  We understand that business trips can be demanding, and finding moments of relaxation is essential for overall well-being. Milan offers various options for unwinding after a busy day. Treat yourself to a leisurely walk in one of the city's beautiful parks, such as Parco Sempione or Giardini Pubblici, where you can escape the urban hustle and bustle. Explore Milan's fashion district, indulge in some retail therapy, or savor exquisite Italian cuisine at one of the city's renowned restaurants. These moments of relaxation will rejuvenate your mind and body, ensuring you make the most of your time in Milan.
Extending Your Stay:  If your schedule permits, consider extending your stay in Milan to further explore its captivating surroundings. Venture to nearby destinations such as Lake Como, known for its stunning beauty, or take a day trip to the charming city of Bergamo. Alternatively, embrace the opportunity to experience more of Italy by visiting other remarkable cities like Venice or Florence. Extending your stay allows you to delve deeper into the rich cultural heritage and diverse landscapes of this beautiful country. Our job is to organize it for you down to the last detail, your job is to relax and enjoy the trip!
At Antaeus travel group, we believe that business trips should be more than just work. They should offer a chance to immerse yourself in the local culture, explore captivating destinations, and find moments of relaxation amidst your professional commitments. Milan provides the perfect blend of business opportunities and leisurely experiences, offering a cosmopolitan atmosphere, iconic landmarks, and a thriving cultural scene.
We hope that our guide has inspired you to make the most of your next business trip to Milan and create memories that will last a lifetime. Get ready to embrace the dynamic spirit of Milan and elevate your business travel to new heights!
Antaeus Travel Team is always at your disposal for your next corporate trip. You may contact us at sales@antaeustravel.com or at +30 211 10 42 100.